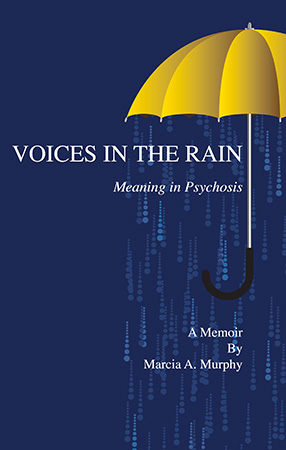 A Memoir
By Marcia A. Murphy
Allbooks Review International Editor's Choice Award for 2011 Finalist
The psychotic break occurred when I was in the vulnerable twenties; for me, a naive time of adventure and risks and I was devastated. Only later was I to learn that psychotic episodes and hallucinations may have real world significance. My own experience told me this but the view of scientific psychiatry that was drummed into me by family, counselors, doctors, etc., made me doubt. Yet, I knew something momentous had happened, and I wanted to know what and what it meant for my life. The search took me to the library—the public library, the university library, the health sciences library—and there I found books that, some of them, told a different story. There, I was to learn that the mind is more than the workings of the material brain. I was to find that mental illness, including psychotic episodes, can be a means of personal transformation and may have spiritual significance.
Available from Wipf & Stock Publishers
To Order:
WHAT THE BOOK OFFERS
General Readers will learn what it is like to experience mental illness and gain compassion for those with such illness.

Those with mental illness may be encouraged and given hope.

Those who treat persons with such illness will gain appreciation of what recovery means and how it may be achieved.
A portion of the profits obtained from the purchase of this book was given to support the residents of Chatham Oaks in Iowa City, Iowa, a facility that cares for people with a mental or physical disability.
Endorsements
Voices in the Rain is an account of one woman's effort to overcome mental illness and the effects it brings to a person's life. Ms. Murphy provides a gripping first person narrative of coping with a psychiatric ailment. Not only the psychosis is addressed, but the stigma relating to the illness.
This book is a page-turner from page one to the end. I couldn't put it down. I was fascinated with the author's account of the beginning of her disease, her descent further and further into insanity and her subsequent involvement with a cult. Yet, there is a glimpse of hope throughout the book. Ms. Murphy takes the reader on her journey, sharing honest day-to-day details, real struggles and triumphs, big and small.
I have never read a book that helped me understand three very important points any better; (1) How it feels to know you are different and yet be unable to change the workings of the mind, (2) why people are drawn into a cult experience and why often it is very difficult to escape and be de-programmed, (3) and finally the thought processes of someone diagnosed with schizophrenia.
Voices in the Rain is an informative, significant, revealing read. It has the potential to change lives and encourage others. I highly recommend this book.
Reviewed by: Donetta Garman, Allbooks Review International Editor's Choice
• • •
In Voices in the Rain, Marcia A. Murphy shares a story that is both tragic and inspirational. The narrative is remarkably compelling with a courageous candor and striking honesty apparent in her reflections. The descriptions of her phenomenological experiences are further amongst the best encountered in the contemporary literature. Together, these honest reflections and vivid descriptions allow the reader to be with her on this life path and spiritual journey. Throughout the work, she openly intertwines her individual experiences with frank discussion of overarching issues relevant to a broad audience.
Jess G. Fiedorowicz, MD, Ph.D., Associate Professor, Departments of Psychiatry and Epidemiology, Roy J. and Lucille A. Carver College of Medicine, University of Iowa
• • •
Voices in the Rain is the moving and thoroughly believable story of the hard-scrabble recovery from serious mental illness of a young woman in Iowa. Like no other memoir, Marcia Murphy lets the reader walk for more than a mile in the shoes of someone living every day with schizophrenia. Murphy shows how intellectual curiosity, religious faith and spirituality, along with psychiatrists, family and friends, and especially other people who are learning to live with mental illness make up the patches in the fragile quilt of recovery.
Robert Rosenheck, MD, Professor, Department of Psychiatry and Public Health, Yale School of Medicine, Yale University
• • •
Voices in the Rain is very engrossing and a real "page turner." Ms. Murphy addresses well issues of great interest and importance, especially the impact of psychiatric ailments, the potential for meaningful recovery, and the pervasiveness of stigma through the details of a personal story. The dialogue and details of different periods of her own history engage the reader with the larger themes through an extremely interesting personal narrative.
Ms. Murphy has done a terrific job in developing a book with appeal to and relevance for a potentially wide range of readers and a wide audience, i.e., readers who have experienced psychiatric ailments first hand, family members, but also mental health clinicians and trainees, as well as members of the wider public interested in personal stories and in understanding more about the experience of psychiatric disorders. Ms. Murphy has done a great job in connecting the magnetism of a personal story to multiple larger themes.
James E. Sabin, MD, Clinical Professor of Psychiatry, Harvard Medical School, Harvard University
• • •
Marcia Murphy's Voices in the Rain is an intriguing, troubling, and inspirational personal chronicle of the author's experiences as a cult member, living with schizophrenia, and finding hope and healing through her personal religious faith. Ms. Murphy's first-hand account of Reverend Moon's Unification Church recruitment, brainwashing, and of being considered worthless to the group when she developed psychotic symptoms, was both riveting and disturbing. She provides a powerful depiction of what it is like to live with schizophrenia, experience auditory hallucinations ("voices") and delusions, and how the illness devastated all aspects of her life. Her insights into the biopsychosocial and spiritual aspects of schizophrenia are enlightening and would be informative for mental health workers, families of persons with severe mental illnesses, clergy, and anyone with an interest in mental illness. Ms. Murphy concludes her fascinating memoir by relating how, through years of searching, she found religious meaning in the psychotic experiences and how this led to her healing and recovery.
Del D. Miller, Pharm.D. MD, Professor, Department of Psychiatry, Roy J. and Lucille A. Carver College of Medicine, University of Iowa
• • •
Marcia Murphy brings us the story of her life with serious mental illness, schizophrenia. It is a story of suffering and alienation but also one of healing and reconciliation. From a troubled home, she is swept into the cult of Sun Myung Moon where, instead of friendship and belonging, she encounters indoctrination and exploitation. Beset by taunting, accusatory voices, she finds herself in a struggle for her psychological life. She learns that she has schizophrenia, an illness that robs one of the ability to interact with others and find the motivation for the simplest tasks. Losing hope, she seeks to end her life, but from this low point, she rallies. Ms. Murphy's is a vivid and penetrating narrative about life with chronic schizophrenia. She shares her inner world so that readers may experience the loneliness and despair that often accompanies this illness. I know of no truer account of its devastation and, on top of that, society's rejection. Hers is a tale of broken relationships, failed employment, and of treatment that makes little difference. Yet, this is not a story of defeat but rather of healing and triumph. In the face of repeated discouragements, she shows surprising resilience and courage. She relies upon her intelligence and inquiring mind to understand what has happened and what corrective measures need to be taken. As she wrestles with her predicament, she awakens to the religious significance of the psychosis and the meaning this gives to her life. Ms. Murphy's is an accurate and poignant account of what it is like to have schizophrenia. But, more than that, it is a glorious example of how one may live with this illness and find meaning regardless. She is to be congratulated for a powerful story that brings with it a deeper appreciation of this serious illness.
Russell Noyes, Jr., MD, Professor Emeritus, Department of Psychiatry, Roy J. and Lucille A. Carver College of Medicine, University of Iowa
• • •
Voices in the Rain is a very moving account of one person's struggle to maintain sanity in a world that does not offer much assistance, and even supports the worsening of the condition. This is a courageous story of a woman who persistently sought understanding of her experience and wellness rather than giving up hope. Her religious faith was an extremely important aspect of her recovery. While her faith originally led her into a devastating experience with a religious cult, it eventually led her to a set of beliefs and practices that explained her illness and sustained her recovery.
I believe this story will be of interest to professionals, family members of people with mental illness, and people with mental illness themselves. This story will give hope to other people struggling with the day-to-day effects of serious mental illness.
LeRoy Spaniol, Ph.D., Former Executive Publisher, Psychiatric Rehabilitation Journal, Boston University
• • •
Marcia Murphy's Voices in the Rain is not only a fascinating and gripping personal odyssey of a journey through the hell of a cult's brainwashing but also a first hand account of her experiences in living with the psychosis it precipitated. Ever since the revolution in the biomedical treatment of psychoses and the concomitant research into their neurobiological causes, there has been little attention to the nature of the sufferer's character and his/her perceptions of both the inner and external world, as if these were irrelevant to the understanding of the disease. Ms. Murphy's memoir offers a rare view into the phenomenology of a schizophrenic illness and the roles that one's core spiritual and religious faith play in the healing process.
Arthur Canter, Ph.D., Professor Emeritus, Department of Psychiatry, Roy J. and Lucille A. Carver College of Medicine, University of Iowa
• • •
Voices in the Rain is a courageous account of Marcia Murphy's extended struggle with severe mental illness and the healing process that has resulted from her determination not to be defined by schizophrenia. As her pastor during part of this time, I can attest to her continued growth and movement toward wholeness. Marcia's story raises important questions about the impact of faith communities upon our lives, and demonstrates clearly that religion can be both a source of well-being and of destruction. Told in a first person style that illuminates her suffering as well as her steps toward healing, the book takes the reader into a world that most of us can only imagine. Medical professionals, counselors, and pastors who work with those experiencing mental illness, as well as the general public will benefit greatly from this compelling inside view of life within a cult, its connection to mental illness, and the power of a caring community of faith to assist recovery. I recommend it highly!
The Reverend Mark W. Martin, Pastor Emeritus, St. Andrew Presbyterian Church, Iowa City, IA